Last Wednesday afternoon I was informed:"Friday there will be Kid´s Day, no school! Parents should come and see, there will be singing and playing and the kids get sweets". Many thoughts in my head! But I could not get more information because of language difficulties and my experience is, that Thais are not used to exact descriptions.Will it be similar to Austrian "Open Door Day"? When schools make kind of advertisement for new students? What can I afford within only 1 day of preparation?
1)"Get out of bed", a children´s song that I already have practiced with some classes. Parents should see how "sanuk" it can be to learn English.
2) Giant soap bubbles, I have a concentrate brought from Europe. (Thanks heaven, to buy even the simplest chemicals is very hard to impossible)
3) "Helicopter-Experiment to make children active.
After the event KittiChai shall bring me to Bueng Kan that I can spend the weekend with other volunteers of the NGO.
Friday morning it turns out: there will be a presentation at stage. OH! I have a CD-Player for the class, but due to language problems it is not possible to copy that song to the big sound-machine. Big loss of audience…. but it is as it is…..
For the Helicopter experiment drawings have to be copied and cut to save time. Phae helps that much!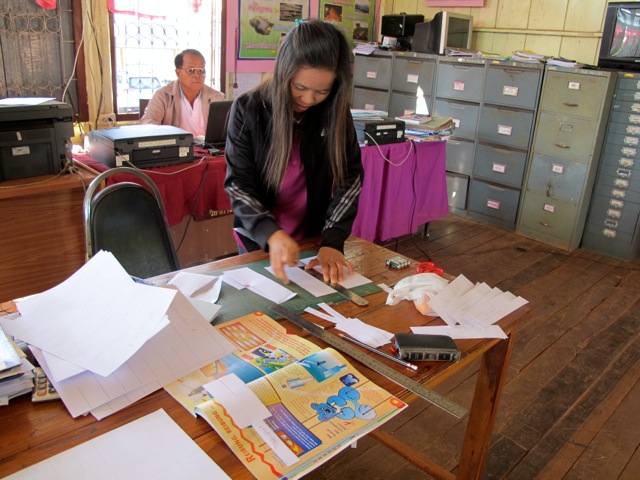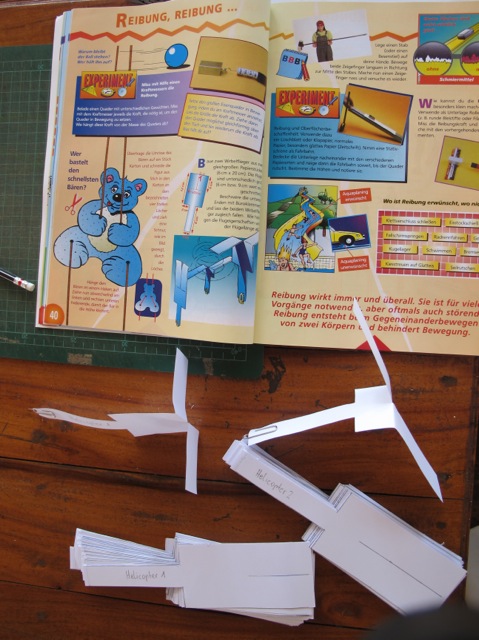 In the meantime presentations start on stage. As I am finished with my preparations I only can see the last sketch and the director tells me, that someone else will bring me to the town.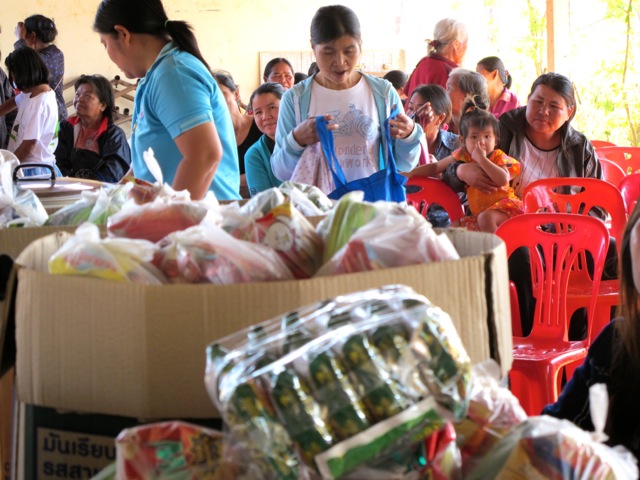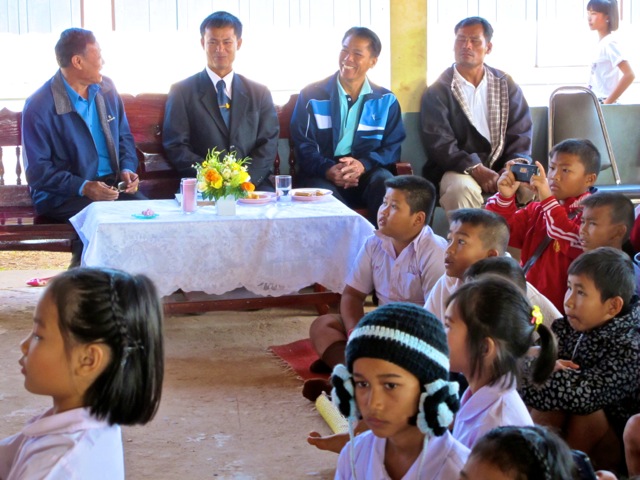 After the show all people will be fed, and for the remaining there will be plays. I only can manage, that the soap-bubbles are announced separately .
Here they are and wonder about the big bubbles!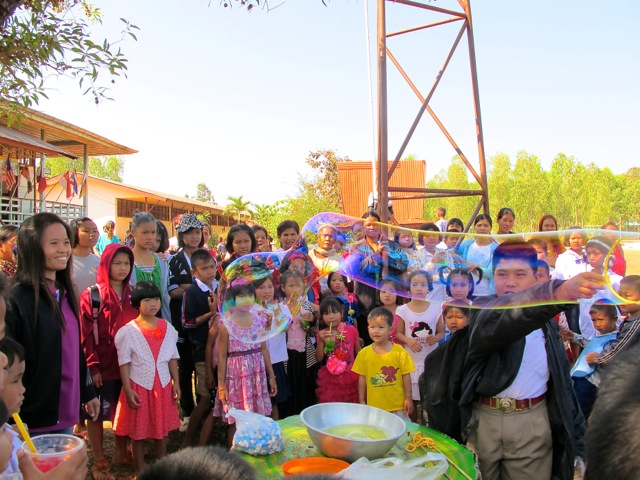 The rest of my presentations did not happen, because the "transportation theam" urged for leaving…In the meantime the list of songs became longer, and the helicopter experiment will happen some other day.
Class 5 and 6 find the existing songs too childish, they prefer Isaan Pop. Sounds nice for my ears, but is not in English! Since days I search the Internet but do´nt find. I proposed Elvis Presleys"Return to sender" The song has a strong rhythm, the text is easy and good to understand. But they dislike. Seems they prefer what they know… No idea what I can do.
Even in Isaan (Lao) language or Thai there is much Isaan Pop, I tried hard.
Maybe this give some impression: