Bis um 5 Uhr morgens ist es still. Dann beginnen in der Ferne Hähne verschlafen zu krähen, Hunde jaulen schlaftrunken.
Gegen 6 Uhr ist die Kakophonie voll im Gange. Nun höre ich auch Stimmen im Haus, das einförmige Geräusch des Mörsers. Es wird hell. Es zieht durch alle Ritzen. Ich bin vergraben unter 2 Decken. Aber um 6:30 muss ich raus. Da beginnt auch der morgendliche Weckruf durch den Dorföbersten: Zunächst Isaanmusik durch alle öffentlichen Lautsprecher, dann erzählt er was. Keine Ahnung über den Inhalt, kann mir niemand sagen.
Until 5 am all is silent, later the cocks start with their "music", dogs bark.
At 6 am full chorus of all the animals of the village. There is a rumor in the kitchen, I hear the sound of a mortar. Dawn. It is cold, I am under 2 blankets, but 6:30 I have to get up. Better so, because alle  public loudspeakers start to play  some Isaan-music and then the major of the village holds a speak, but nobody can tell me what about.
In der Nähe ist ein Teich, einer von unzähligen. Weisse Nebelwölkchen tanzen über die Oberfläche. Ein Holzkohlenmeiler dampft vor sich hin.
Nearby is a pond, one of so many. Tiny white clouds dance on the surface.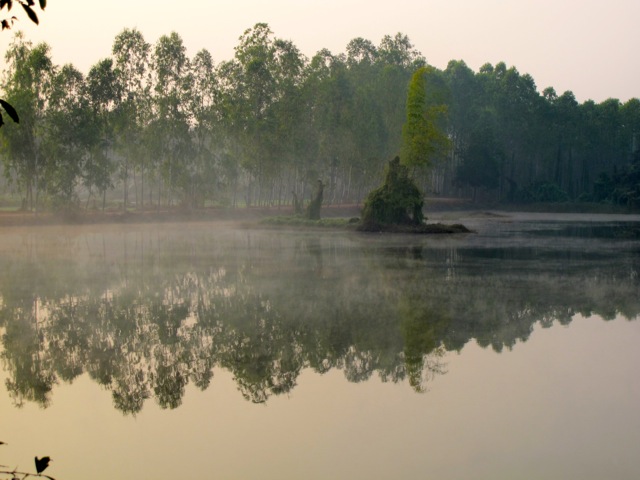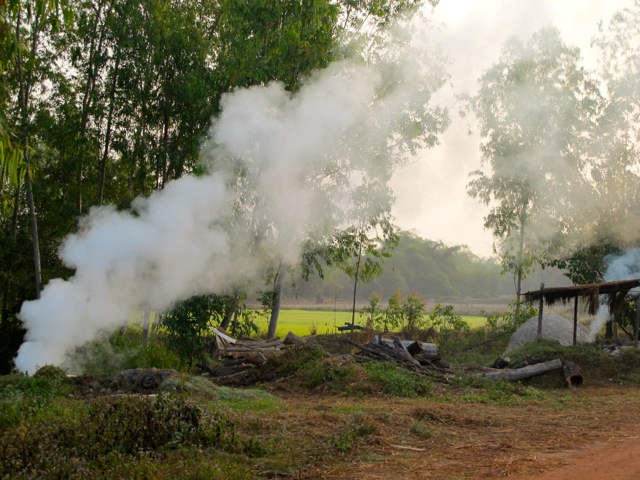 Der Barbier waltet seines Amtes.
A barber works nearby.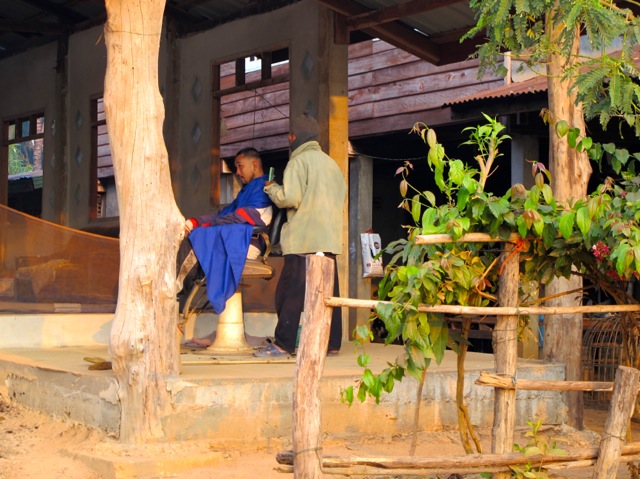 Es gibt sehr viele Hunde hier. Am ersten Tag habe ich mich gefürchtet, es steht so viel über Tollwut geschrieben, Es soll pro Jahr mehr als 1 Million Hundebisse geben. Sie ware sehr misstrauisch mir gegenüber, haben aber schnell gelernt, dass ich harmlos bin. Jetzt ignorieren wir einander. Sie ignorieren auch die wenigen Autos die da kommen und bleiben seelenruhig auf der Straße liegen. Erst, wenn es ihnen wirklich an den Pelz geht, räumen sie das Feld. Ich sollte mir wirklich mehrZeit für so eine Fotoserie nehmen.
There are many dogs. The first day I had fear, There is so much written about rabies! I have been told, more than 1 million bites a near! Both sides have been very suspicious, but now we ignore each other. They also ignore the few cars coming along, only the very last second they decide to move. I should take the time for such photos….
Vor den Häusern brennen Feuer, die Leute hocken darum herum, mit dicken Hauben. Die ersten Schulkinder radeln zur Schule, manchmal 3 Kinder pro Fahrrad…..Ein Schulbus bringt die Kinder in die nächste höhere Schule.
Outdoors there are fire places, people sit around warm caps, naked feet. Children go to school, means they use a bike, sometimes 3 children one bike. A school bus brings children to the next higher school.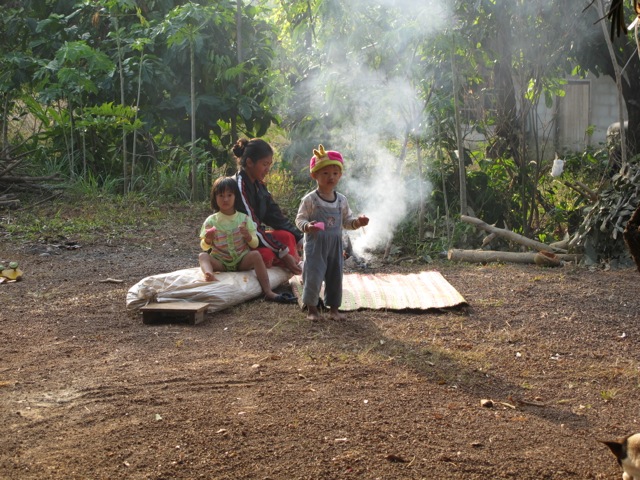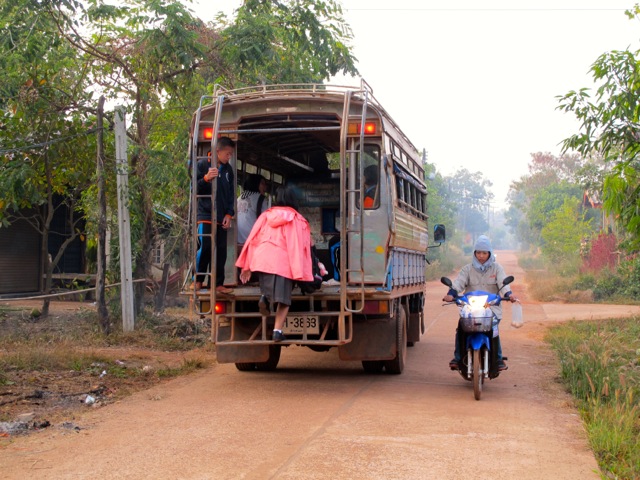 Es gibt im Dorf einige "Geschäfte". Die Artikel habe alle in der ersten Reihe Platz, so gering ist das Angebot. Natürlich gibt es auch ein Zuckerlgeschäft gegenüber der Schule. Die Leute ziehen die Schuhe aus, wenn sie ins Geschäft gehen.
There are some "stores" in the village. Nearly all articles have room in the first row. Of course, there is a sweet whop opposite the school. People take off their shoes before entering.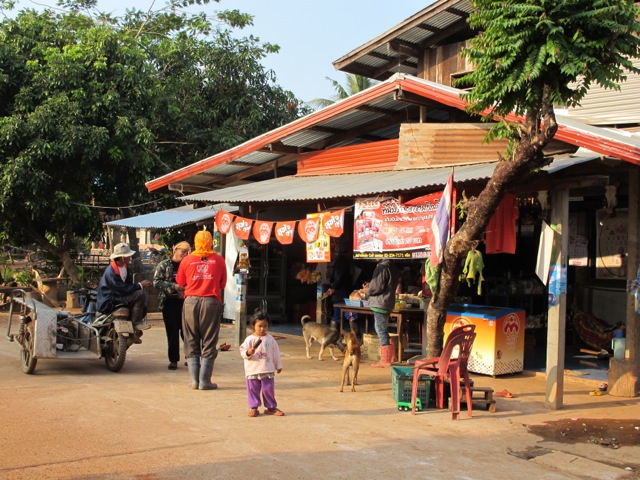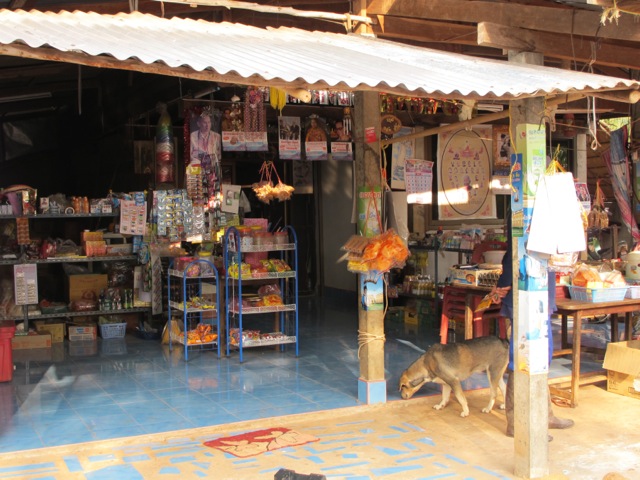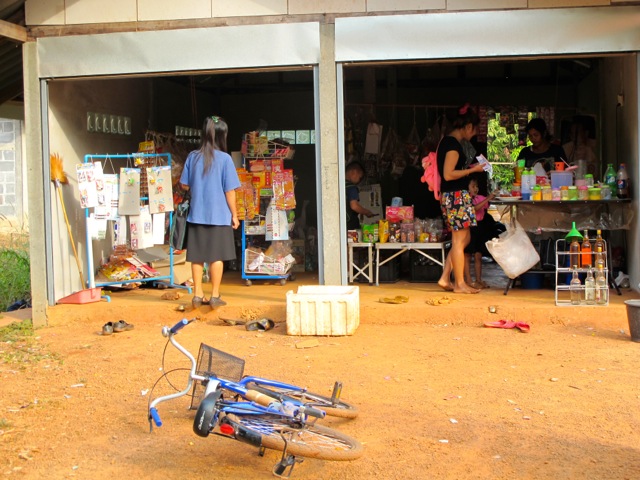 Viele Fotos sind nur in meinem Kopf. Bis jetzt habe ich über 4000 gemacht. Da sollte ich endlich den Schrott ausmisten! Aber ich erlebe ja so viel Neues! Und das macht auch ganz schön müde, die neuen Eindrücke zu verarbeiten!
Many photos are in my head, have done more than 4000 until now! Should trash some, but there are so many experiences! They make me tired the early evening!