View larger map
Als ich angekommen bin, hat mich Supratim vom Flugplatz abgeholt und wir sind nach Belghoria gefahren, einem Vorort von Kolkata. Das Erste, was ich von Kolkata wahr genommen habe, war eine riesige Müllhalde, die von Menschen nach Verwertbarem abgesucht wurde. Dazwischen eine Kuh, Schweine und ihre Ferkel waren auch da. Daneben die Slumhütten.
Belghoria ist ein Mittelstandswohngebiet. Supratim wohnt in einer schmalen, relativ sauberen und verhältnismäßig ruhigen Gasse. Sein Vater hat das Haus gebaut, damals gab es hier kaum welche. Jetzt ist alles dicht verbaut, scheint Spekulationsgebiet zu sein.
In der Nähe gibt es einen Teich, der unheimlich verdreckt ist. "Warum muss das so sein", war meine Frage. Man muss juridisch unterscheiden zwischen einem Teich und "lowland". Der Grundeigentümer will das Gewässer zuschütten und darauf bauen…..Geht aber nicht, weil das Grundstück als Teich eingestuft ist und deshalb nicht umgewidmet werden darf. Bei einem lowland wäre das möglich. Also lässe er den Teich versauen um auf die Verwaltung Druck auszuüben.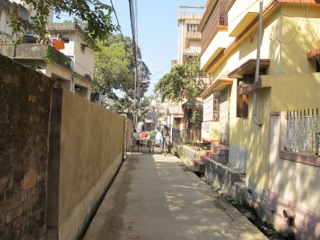 street in Belghoria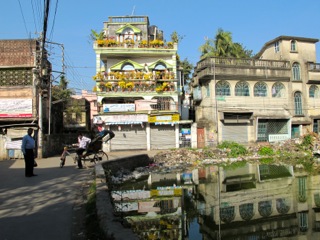 Pond or "lowland"?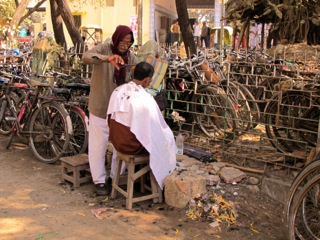 Hairdresser and "park and Ride" at the train station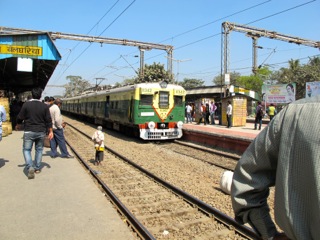 There are many accidents…….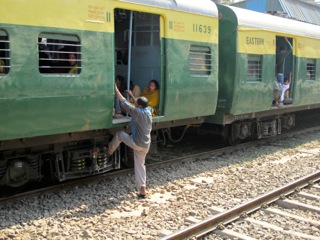 Mobility…..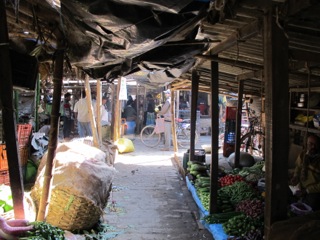 the market nearby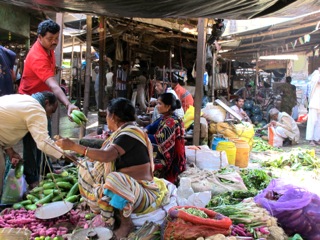 Market
Supratim picked me up at the airport and we drove to Belghoria, near Kolkata where he lives. Belghoria is a middle-class living area, comparatively calm and clean. Nearby  is an incredible dirty pond. The landlord wants to close it, to build a house. But that is forbidden for a pond. If it was a "lowland" that change could be made.  With the dirt, the landlord wants to put pressure to the government…….